About Brunner Group Beach Homes
Meet R. Ashley Brunner (Realtor)
Owner/Team Leader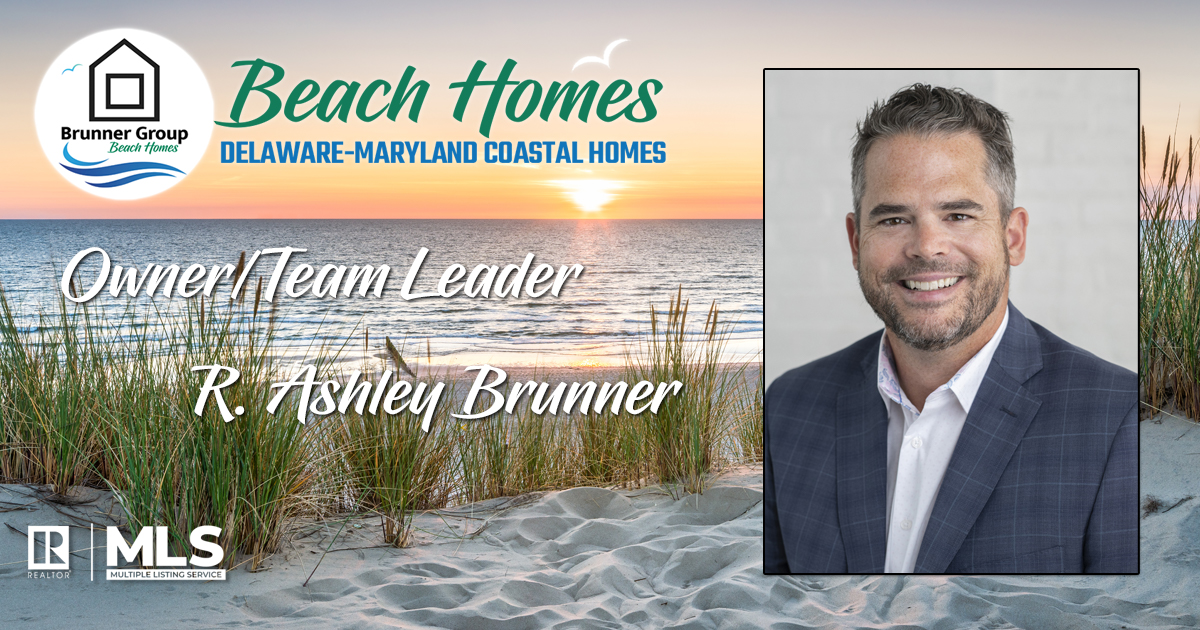 R. Ashley Brunner is the team leader and owner of the Brunner Group at Keller Williams Realty. In this role, Ashley manages his team in all aspects of Real Estate Sales including motivation, education, and purpose. A big believer in service, Ashley supports training and education for his team and his clients. He has been a licensed Realtor since the age of 18 and has worked full time in Real Estate sales since 2001. Ashley has been involved in Real Estate since a child. Being born into a Real Estate family, he is the son of a local Lancaster, Pa developer. In his Real Estate career, he's managed and lead a top team for over 18 years. He specializes in educating his clients and providing "real world" advice when navigating the real estate transaction.
He enjoys sports (especially football) and being outside. As an avid reader on all topics, he strives to constantly push and tweak both his business and personal life. Ashley is happily married to his soul mate-Katie who he reconnected with after first meeting her over 18 years ago at the local mall. Katie and Ashley have a beautiful daughter, Vivian, born in August of 2020. Being a great dad, life partner to Katie, providing excellent customer service and helping his team achieve are his passions.
Ashley has transformed a successful real estate sales career into a owning a successful real estate business. Covering residential, commercial, development, vacation rentals and coaching his team(s) offer exceptional service in many markets. Licensed in Pa, Md and De, The Brunner Group has multiple teams spanning a large geographical area.
Email -

Ashley@TheBrunnerGroup.com Phone - (302)-402-5762
What makes us special?
Our friendly, fun, and solution-driven attitude distinguish us in this competitive market. Using up-to-date and innovative technology and marketing, our team works wonders in helping you save time, money, and energy. With the customer-centered service we offer, paired with knowledgeable and experienced innovators, our team serves you with accuracy and refinement, providing the most suitable resolutions. We make sure our clients are satisfied from the first steps of the process through the rest of their lives, providing them with a real estate team for life!
Throughout the years we've grown and now we've expanded our reach in serving Central Pennsylvania and the Delaware-Maryland coastal communities.
Our purpose is to simplify the process of buying or selling beach homes. Using up-to-date and innovative networks and marketing, our team works wonders in helping you save time, money, and energy. Ultimately, we aim to make your dreams come true and help you initiate a brand-new chapter in life. The real estate journey is usually a once-or-twice-a-life activity for many, so it's easy to feel overwhelmed when entering this unknown ground. That's why working with trustworthy and experienced real estate professionals is a key to your success and we'd love to help you navigate through this complex process. Give us a call or shoot us a text or email. We're happy to help you find your dream beach home. Contact Us